Get Free, Expert, Small Business Help to Start & Grow Your Small Business.
SCORE Greater Phoenix Mentors are experienced entrepreneurs, corporate managers, and executives with diverse backgrounds of industries and specialties who share their expertise, wisdom, and knowledge to help you start, develop, and grow your business. All Confidential. Meet virtually or in-person.
Join us for the Grow with Google Spring Series!
The SCORE Arizona and Utah District has partnered with Grow with Google to bring you a FREE webinar series to help your small business adapt, grow, and better serve your community.
Your customers are online, so having a strong online presence is important — even if your business doesn't sell on the web. Register and learn ways to strengthen your online presence with these easy-to-use tools. 
View recording
 of Sell Online with E-Commerce Tools + Market Finder webinar.
We're currently virtual!
Our physical office locations are currently closed due to the Coronavirus pandemic. Our staff and volunteers are still working remotely.  Mentoring is by appointment only. Due to the COVID-19 pandemic and our efforts to stop the spread of the virus, mentoring sessions will be conducted remotely via phone, video, or email. 
To request a mentor click here, or call the SCORE Greater Phoenix office at (928) 421-3778.
SCORE Greater Phoenix is an Award Winning Chapter.
SCORE Greater Phoenix earns District Chapter of the Year Award for 2020 and again for 2021!
Three years in a row! This prestigious award recognizes the efforts of so many dedicated and hardworking volunteers, who have devoted so much time to growing our presence in our community, serving our clients and supporting SCORE's mission and vision. We look forward to continuing our upward trend in serving small business owners and founders in our communities.
Outstanding District Leadership Award 2021
The Arizona and Utah district was recognized again for its high performance. The 2021 Outstanding District Leadership Award is given to one district in each of the eight regions across the country. Of the seven districts in the Western region, Arizona and Utah were selected as the Outstanding District Leadership. Congratulations to all the hard-working volunteers committed to helping small businesses!
SCORE Greater Phoenix earns Platinum Chapter Excellence Award 2020
Our chapter's excellence is a reflection of our volunteers and the clients we've served. Our volunteers have worked exceptionally hard through a difficult year and persevered to provide valuable mentoring and educational opportunities to clients facing unprecedented challenges.
Find Your Mentor Today
We have over 65 mentors, each with extensive business experience, ready to help you start up a business, grow your business, or work through difficult business management issues. Mentors are available to participate in remote mentoring sessions via phone, email, and video.
Attend a Workshop or Webinar
We offer local small businesses instructor-led classes, seminars, and special events and at twenty-five locations throughout the Greater Phoenix area. Live webinars, on-demand interactive courses, and recorded webinars are also available online.
Browse Business Resources
Owning a business is both exciting and intimidating, but you have lots of support. From writing a business plan to protecting your assets, we offer a wide range of tools and resources to help you make decisions on starting or growing your enterprise.
Free business mentoring help is available all around the Phoenix Valley.
Greater Phoenix SCORE is the 5th largest chapter out of all the SCORE chapters nationwide. We provide free mentoring for entrepreneurs whether you're just thinking of starting a business, are a start-up, or in the growing and expanding stages.
Find a Mentor Near You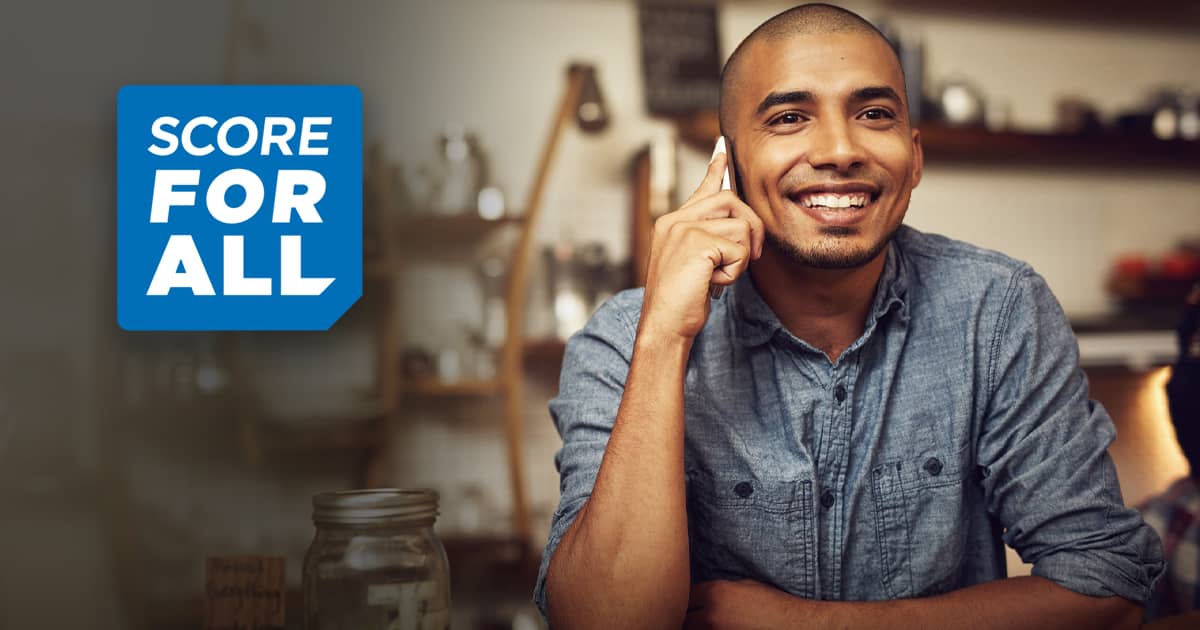 SCORE Empowers All Entrepreneurs
We believe that anyone can start and manage a successful small business. We also know that the road is harder for some than for others. Diverse backgrounds, different voices and unique needs may call for specialized resources and mentoring approaches.
SCORE is listening, recognizes these diverse needs, and provides personalized support in a wholly-inclusive platform called SCORE for All. 
Share Your Expertise
Small business owners in our community need your help now more than ever. SCORE is proud to have the nation's largest network of volunteer, expert business mentors. They help thousands of entrepreneurs start and grow their small businesses every year. Our volunteers give back to their communities and pass on their knowledge to the next generation of entrepreneurs. Do you want to help someone achieve their dream?
Become a SCORE Volunteer